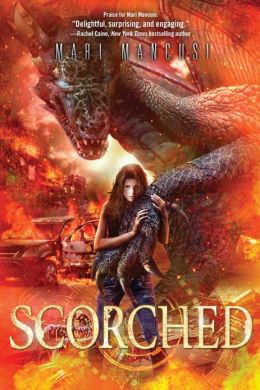 Trinity
Don't leave me here...
When Trinity first hears the voice, she thinks she's going crazy. It wouldn't be a big surprise—her grandfather firmly believes he just brought a genuine dragon egg to their dusty little West Texas town.
Connor
He's from a future scorched by dragonfire. His mission: Find the girl. Destroy the egg. Save the world.
Caleb
He's everything his twin brother Connor hates: cocky, undisciplined, and obsessed with saving the dragons.
Trinity has no idea which brother to believe. All she has to go by is the voice in her head—a dragon who won't be tamed...
This ARC was given to me by the publisher in exchange of an honest review
Oh. My. God. Where do I start with this wonderful, amazing book! This book follows the story of Trinity, Connor and Caleb who all have different stories but whose lives revolve all around the Dragons. I loved Trinity and how stubborn she was! I tolerated Connor because I really couldn't stand him and he grew on me slightly. Caleb is my baby and he's treated so badly, everything hurts for him. Basically, I love 1/2 of the twins and Trinity. Their back stories and how they unraveled hurt me so much.
The plot and the writing were very well done, I only had some issues with how some of the chapter transitioned. All in all it was a great book. AND I NEED THE 2ND ONE NOW, MARI, PLEASE.
5/5 stars
Peace, Love and Fangirl,
Alex