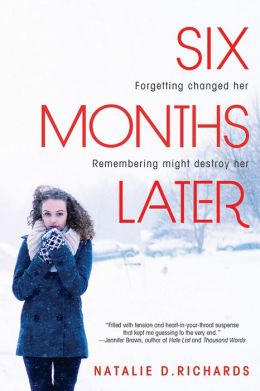 She Has Everything She Ever Wanted. But Not Her Memory...
When Chloe fell asleep in study hall, it was the middle of May. When she wakes up, snow is on the ground and she can't remember the last six months of her life.
Before, she'd been a mediocre student. Now, she's on track for valedictorian and being recruited by Ivy League schools. Before, she never had a chance with super jock Blake. Now he's her boyfriend. Before, she and Maggie were inseparable. Now her best friend won't speak to her.
What happened to her? Remembering the truth could be more dangerous than she knows...
Review: OHMAGAWD, THIS BOOK WAS AMAZEBALLS, I loved it so much because of so many reasons! I am a sucker for Thrillers and this fit the bill! The plot was breathtaking and was so new! I didn't know what was going to happen, It was full of murder, mystery and plot twists. I saw nothing coming and I swear that Adam is my baby.
The characters were wonderful and I hated the evil ones. MAN, I CAN'T WAIT FOR NAT'S FUTURE WORK
*DREAM CAST*
Astrid Berges-Frisbey as Chloe
(NO ONE CAN CONVINCE ME OTHERWISE)
Dakota Fanning as Maggie
(LOOK AT HER)
Jonathon Keltz as Blake
(UGH)
Nicholas Hoult as Adam
(MY BABY)
ABOUT THE AUTHOR
At seven, Natalie D. Richards wrote about Barbara Frances Bizzlefishes (who wouldn't dare do the dishes.) Now she writes about awesome girls, broody boys, and all things dark and creepy. Natalie lives in Ohio (Go Bucks!) with her techno-wiz husband, three amazing kids, and a seventy pound dust-mop who swears he's the family dog. Her psychological thriller, Six Months Later, will be released in October 1, 2013 by Sourcebooks Fire. Until then, you'll probably find her writing her next book or trying to wade through the towers of dog-eared paperbacks that have taken over her bedroom.
*****GIVEAWAY******
a Rafflecopter giveaway