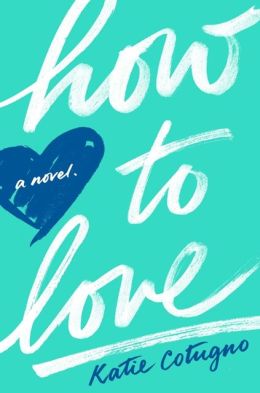 Before: Reena Montero has loved Sawyer LeGrande for as long as she can remember. But he's never noticed that Reena even exists . . . until one day, impossibly, he does. Reena and Sawyer fall in messy, complicated love. But then Sawyer disappears without a word, leaving a devastated—and pregnant—Reena behind.
After: Almost three years have passed, and there's a new love in Reena's life: her daughter. Reena's gotten used to life without Sawyer, but just as suddenly as he disappeared, he turns up again. Reena wants nothing to do with him, though she'd be lying if she said his being back wasn't stirring something in her.
After everything that's happened, can Reena really let herself love Sawyer LeGrande again?
Oh sweet baby jesus, this book. How to Love is a compelling story about love, loss and redemption and It was so beautifully written that I can't even. I read the synopsis and I kinda went "Been there, don that, its cliche". I was wrong, I was very wrong.
We start out this book when Reena has seen Sawyer for the first time in 3 years after he left her. We switched timelines in this book so you see Reena go to young, sweet, innocent, and naive teenager to more than slightly bitter teenage mom.
I loved the plot and I loved how the writing style flowed smoothly between timelines so that nothing faltered for the reader. Ok, I'm gonna tell you the truth and say that I hated Sawyer in the before part so so so much. What helped me with dealing with him was how we saw how he matured so much in the course of 3 years.
I felt so bad for Reena because since she was raised in a practicing Catholic family, her being pregnant was horrible. I am horrified at how everyone treated her. Everyone in the LeGrande family and her father were horrible and it hurts that it took Sawyer coming back to fix things.
I had only one complaint of this book, I wanted to see more of Aaron, he loved Reena and took care of her and then whoosh, he disappears and I wanted to see more of his character in this book.
I really loved this book and I now know that the name Katie Cotugno will be on my brain now!
Peace, Love and Fangirl,
Alex