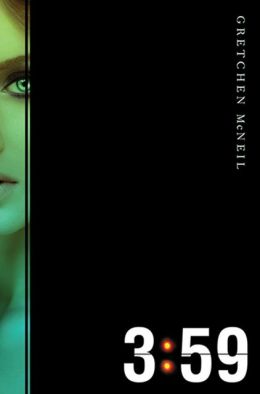 Josie Byrne's life is spiraling out of control. And just when she thinks it can't get worse, she wakes to an image of herself in the bedroom mirror. Except it's not her at all—the girl in the mirror is blonder and prettier. And her name is Jo.
The two girls are doppelgängers whose universes overlap every twelve hours at 3:59. Fascinated by Jo's perfect world, Josie jumps at the chance to pass through the portal and switch places for a day.
But Jo's world is far from perfect, and the stuff of nightmares lurks around every corner. And when Josie finds herself trapped there, her life becomes more dangerous—and more deadly—than she ever imagined.
I WAS GIVEN AN ARC BY THE PUBLISHER IN EXCHANGE FOR AN HONEST REVIEW:
I don't even know what to do with this book. It sucked me in right from the beginning and it was absolutely amazing with all of its plot twists and turns!
The characters had depth to them but not so much that you were throwing up back-story. Josie was a likable character even more when you saw how much her life sucked. Then we meet Jo who seems perfect and then you realize that she's a bully. Honestly, Madison got on my nerves with both versions. I hate Nick 1, but Nick 2 is so cute. Honestly, this book was topsy turvy with parallel universes.
The plot and the writing style was absolutely fantastic! I loved how the flow of the storyline didn't falter much! The writing style wasn't confusing and very perfect!
Also, THAT ENDING KILLED ME SO MUCH. I REALLY NEED A SECOND ONE, PLEASE!