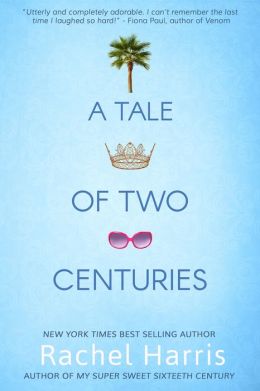 Alessandra D'Angeli is in need of an adventure. Tired of her sixteenth-century life in Italy and homesick for her time-traveling cousin, Cat, who visited her for a magical week and dazzled her with tales of the future, Alessandra is lost. Until the stars hear her plea.
One mystical spell later, Alessandra appears on Cat's Beverly Hills doorstep five hundred years in the future. Surrounded by confusing gadgets, scary transportation, and scandalous clothing, Less is hesitant to live the life of a twenty-first century teen…until she meets the infuriating—and infuriatingly handsome—surfer Austin Michaels. Austin challenges everything she believes in…and introduces her to a world filled with possibility.
With the clock ticking, Less knows she must live every moment of her modern life while she still can. But how will she return to the drab life of her past when the future is what holds everything she's come to love?
Ok, guys I LOVE RACHEL HARRIS. This series is like candy to a baby. Full of sweetness and makes you want to ccry when you don't have it. I have to admit that it's been a while since I read MSSSC but I nosedived right back into this world. I always loved Less's character and this just made me love her so much more! Reyna is as wise and mysterious as ever so glad that didn't change. I loved how we saw how much time didn't pass much for Cat and had passed a ton for Less.
Now lets get to the boys! Austin started out as BAD BOY SUPREME who infuriated Less to no end and made me smirk so much! Logan, oh dear god, MOTHER OF GOD, HOLD ME. He was so sweet and I just loved him so much.
The plot moved quickly and without a hitch, the writing style was beautiful and I absolutely loved this entire book. OH THE ENDING. I thought I was going to die. I recommend to people who love romance, and fluff with a dash of contempary and a pinch of historical.
5/5 stars
Peace, Love and Fangirl,
Alex