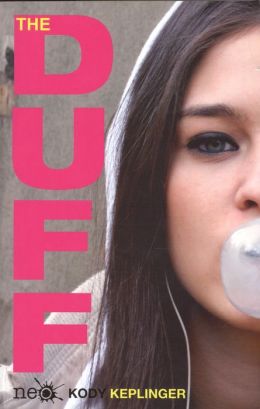 Seventeen-year-old Bianca Piper is cynical and loyal, and she doesn't think she's the prettiest of her friends by a long shot. She's also way too smart to fall for the charms of man-slut and slimy school hottie Wesley Rush. In fact, Bianca hates him. And when he nicknames her "Duffy," she throws her Coke in his face.
But things aren't so great at home right now. Desperate for a distraction, Bianca ends up kissing Wesley. And likes it. Eager for escape, she throws herself into a closeted enemies-with-benefits relationship with Wesley.
Until it all goes horribly awry. It turns out that Wesley isn't such a bad listener, and his life is pretty screwed up, too. Suddenly Bianca realizes with absolute horror that she's falling for the guy she thought she hated more than anyone.
Sweet baby Jesus!! I so did not expect this book to be so good! I had heard of this before but I really didn't read it until I saw the movie trailer and said "I can't watch this movie until I read the book"!
This book spoke to me so much! I absolutely loved Bianca with all my heart and soul! I felt that her character while very cynical was likeable. I really related to her character and with how done she was with high school in general. I think that we have all been Bianca at some point in life.
Wesley Rush was such a jerk that I was so prepared to hate him but damn my soft heart because I ended up loving him so much. Wesley's relationship with Bianca was so unconventional when they started out but I totally saw their relationship development coming from a mile away.
This whole book gave me such a realistic 80's high school movie vibe so I loved it! The book didn't gloss over the nasty parts of being a teenager which so many other books do. This book is a great recommendation for teens to read. I hope the upcoming movie does it justice.