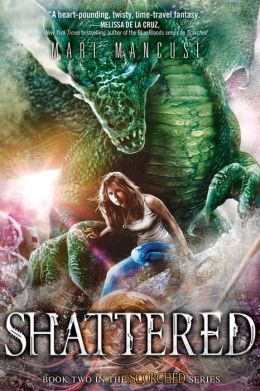 Trinity, Connor, and Caleb are trying to stay under the radar, holed up in an abandoned West Texas farmhouse. Their only problem is Emmy: a baby dragon that's growing like crazy. When Emmy is caught on tape and the video goes viral, they find themselves on the run again. Their only hope comes from an old map leading to a man who has come from the future to help them. But with the government hot on their heels and Caleb's growing addiction to spending time in the Nether world, will they be able to reach him in time? And will keeping Emmy safe end up being too high a price for Trinity to pay?
MARI MANCUSI HAS SHATTERED *hehe* MY HEART!!
She has taken my babies and put them through hell again!
Also the new characters are fantastic but I AM STILL WARY OF THEM ALL.
You know I thought that I would like Connor a little bit more in this book but nope.
not one bit.
I am worried deeply for my baby Caleb because he is not ok and probably needs therapy! THE FLASHBACKS, GUYS!
Trinity was in between a rock and a hard place this entire book, I feel really bad for her.
I just want all my babies happy.. IS THAT TOO MUCH TO ASK
*cry*
It's a thrilling sequel to Scorched and I am so excited for everyone to read it!
4.5/5 stars
Peace, Love and Fangirl,
Alex