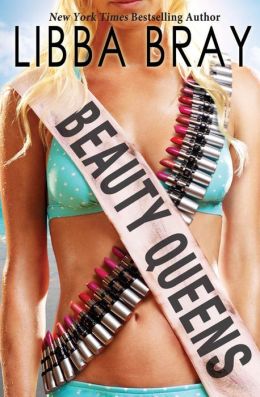 Survival. Of the fittest.
The fifty contestants in the Miss Teen Dream Pageant thought this was going to be a fun trip to the beach, where they could parade in their state-appropriate costumes and compete in front of the cameras. But sadly, their airplane had another idea, crashing on a desert island and leaving the survivors stranded with little food, little water, and practically no eyeliner.
What's a beauty queen to do? Continue to practice for the talent portion of the program - or wrestle snakes to the ground? Get a perfect tan - or learn to run wild? And what should happen when the sexy pirates show up?
I have no words for the perfection that this book was. I'm kidding I have a lot of words..
Ok, let's be honest when I started reading it I thought it was going to kill my brain cells. To be honest, some of my brain cells died with the character's priorities on the island.
But then, something beautiful happened.. FEMINISM, DIVERSITY AND SATIRE OVER WHAT MEDIA BROADCASTS TO GIRLS OVER BEAUTY.
This book is something that 10 year old me needed and I am so mad with myself for not reading it earlier.
Beauty Queens is a beautifully written novel with such a fantastic message for girls and anyone else if you can read between the lines.
I love this books and you all need to go worship Libba Bray!
5/5 stars
Peace, Love and Fangirl,
Alex